Did you ever rent a private luxury villa for your summer vacation in the arms of nature next to the beach with an amazing sea view of numerous islands? Did you spend a great time by your personal pool sipping your beverage while listening to the melody of the harmonizing nature? No distractions; no unnecessary thoughts; just clean mindfulness; plain, simple but qualified timepieces.
Maybe you cannot afford it for now, yet? What about going to an all-inclusive hotel break instead? Sounds more pocket-friendly; isn't it? What if we say that you are wrong? Can it just be prejudice or misinformation about the market? We know everyone is after the best value break for their money but still renting a private luxury villa is affordable yet cheaper than an all-inclusive luxury hotel holiday. Now, we'll figure it out together.
Today; we wanted to make a comparison of these two fantastic holiday alternatives; luxury vacation rentals in Turkey and luxury all-inclusive hotel holidays in the most fantastic holiday destination of the world; Mediterranean; Turkey.
First of all; let's make a break-down and see how they differ financially. In our scenario; let's pretend there are six people; two parents, three children and one accompanying nanny.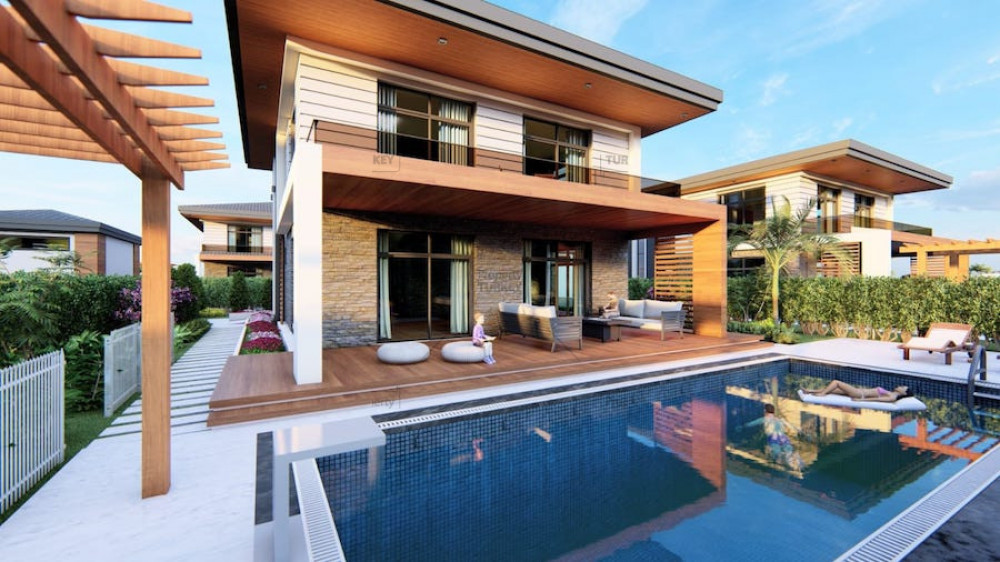 The Cost of Staying All-inclusively in a Luxury Hotel in Turkey
Turkey with its vibrant culture, glorious landscapes, crystal clear waters, surreal panoramas and delicious food has been the favourite tourist destination for holiday enthusiasts all over the world for years. As a result of having decades of experience in tourism; there are a wide variety of all-inclusive holiday alternatives in the market and their prices fluctuate depending on the season.
The average cost of a regular all-inclusive stay in a luxury hotel per person is between 30– 100€ during high season. We'll pretend our rate as 65€, an average in our case. Also; we will not take the baby into account as many hotels don't charge for children under a certain age or they only charge the half-price. So, the cost of five people staying in an all-inclusive luxury hotel would be 65 X 5 = 325€ for one day. Each and every traveller would prefer staying at least for a week so our family has to pay at least 325 X 7= 2275€ for a one-week luxury all-inclusive hotel holiday. Remember; we said before; we didn't charge for the baby but if we had taken six people into account; the price would go up to 2730€ for an all-inclusive hotel vacation.
The Cost of Staying in a Private Luxury Villa
Holiday in a private luxury villa has countless benefits for vacationers. We will discuss these topics later. As a trustworthy expert in vacation home rentals arena; Göcek Rentals offers various villa rental alternatives in the most beautiful bay of Gocek Turkey. Göcek Rentals experts can offer you a superior luxury private holiday villa for 1000€ for one week. Sounds fantastic? This fee is covering accommodation of 6 people, utility bills, pool, children's pool, maintenance, cleaning services in every 7 days and security.
We also need to take into account supermarket shopping expenses. It is not possible to figure out an exact number as food and beverage shopping habits changes from person to person. Without compromising; spending 35€ daily would sufficiently cover supermarket shopping for 6 people. Weekly; 35X7=245€ would be the food and beverage supermarket cost of a group of 6 people.
Finally; 1000 + 243 = 1245€ is the cost of staying in a private luxury villa for six people.
Amazing isn't it? As you can see; 2275-1245=1030€ is the huge difference between two fantastic holiday alternatives. You can almost make holidays for two weeks if you go for a villa rental instead of a hotel. Let's not forget, in any hotel, you would time to time like to visit the town centre and have a local taste. So, the difference is likely to climb.
If you don't want to be in the kitchen on your holiday; you've got lots of options in Turkey. You can find lots of variety for any budget. You can have a bite for little money, have lunch or dinner with lots of price diversity or have your food came to your villa thanks to the delivery services of restaurants.
Advantages of Private Holiday Villa Rentals vs Hotel Holidays
Besides being financially cost-effective; there are various other advantages of staying in a private holiday rental.
Vacation Rentals are Highly-Personalized
Today; hotels try to provide every need of their customers in a campus of activities. As they serve many customers at the same time; they have to plan every aspect of every activity taking the majority of their customers expectations into consideration. These plans include how a customer enjoys the day, what and when they eat, drink and even sleep. Instead of sticking on the strict time tables of a hotel in terms of breakfast time, lunch, dinner etc.; you can sleep as much as you like and have a full breakfast during lunchtime or at night without the need for dressing up the children or yourself; prepare food for your children with the comfort of living in your own house. There is no need to obey the plans of a hotel especially when you are on holiday.
It is also notable that being trapped in a hotel is burdensome for the most. You would once in a while like to get into the town centre and have a good evening. Find a nice restaurant of your taste, enjoy a quality bottle of wine or a cold beer with your chosen course of the meal. Followed by a chic night club, or end the night in a jazz club. Your choice, your plan and no set plan that had to be done.
Vacation Rentals are Comfortable
Instead of trying to fit in a tiny hotel room with all your luggage and belongings, you can settle in the comfortable, large spaces in a private villa and feel the luxury of living in your own place.
If you plan for a group vacation you can rent more than one villa on the same site. You can enjoy your day or evenings or both together thanks to the spacious patio of the villas.
Vacation Rentals are Hygienic
In terms of hygiene; in a vacation rental, you don't need to share your pool, your shower, your sun-beds with foreigners. You will know how clean the kitchen is and how well the food is cooked. If you
want extra hygiene, cleaning services will be provided with an extra small fee whenever you need. In a holiday rental; you can wash your clothes at your own will and even use the iron without paying a fortune to hotel laundry services.
Utmost Privacy
Privacy is another strength of holiday villa rentals. In a private villa; you are not forced to listen to conversations of hundreds of people rushing around and your conversations would also be heard by only your loved ones.